A visit to the theme park is fun for sure, but what if you are going to a single destination with four theme parks? It is none other than the Dubai Parks and Resorts, which is first of its kind in the whole Middle East. The extensive area sprawling across 25 million square feet has around 100 rides and attractions that will make you lose track of time.
It consists of three theme parks—Motiongate Dubai, Bollywood Parks Dubai, Legoland Dubai, and one waterpark—Legoland Water Park.
What is Riverland?
All the parks are connected by Riverland, which has several cafes, restaurants, and sights of interest. It is a gateway that serves as a dining and retains destination and leads you to Dubai Parks and Resorts. The place is divided into four zones—The French Village, Boardwalk, India Gate, and The Peninsula.
While the early American vibe fills the Boardwalk, India Gate welcomes you to the enchanting Asian culture. The Peninsula is a huge outdoor venue that stages some interesting festivals and concerts. The French Village is a makeshift destination that serves as a medieval French Town.
Motiongate Dubai
Motiongate Dubai will take you to the sophisticated and flamboyant world of Hollywood. It has 27 thrilling rides and attraction woven around the themes of three international motion picture studios—Sony Pictures Studio, Lionsgate, and DreamWorks Animation. The attractions at Motiongate is divided into five different zones. They are:
Studio Central: It takes you through the real-life movie sets of New York City. It is a golden chance to learn the art of filmmaking and the working of a movie studio.
Columbia Pictures: This zone is suitable for adventure lovers as ghosts, zombies, and vampires rein it. Embark on the scary journey with interactive shows, water rides, and coasters.
Smurfs Village: The youngest ones in your family are going to have infinite fun at Smurfs Village. The mushroom-top houses and blue Smurfs will welcome you. It has interactive play zones, family rides, and theatre shows.
Lionsgate: This zone opens the door to action-packed, The World of Hunger Games, and Step Up Dubai for the dance lovers.
Dreamworks: Four distinct lands await you at Dreamworks. They are set against themes of the blockbuster classics Kung Fu Panda, How to Train Your Dragon, Madagascar, and Shrek.
Bollywood Parks
Bollywood Parks is the first theme park in the world inspired by Bollywood.
Bollywood Boulevard: Ramble through the boulevard with cafes and live entertainment shows.
Mumbai Chowk: Experience Mumbai here with all its indigenous flavors. The famous food, shopping, and party spirit are recreated.
Rustic Ravine: This zone cherishes the pristine beauty of rural India along with the adventures set against the theme of evergreen movies like Sholay, Lagaan, and Dabangg.
Royal Plaza: It is home to the Rajmahal Theatre, which is the region's first Broadway-style Bollywood musical.
Royal Film Studios: This is the perfect place for movie buffs as they can learn the art of making memorable movies. Here, you can also meet your popular Bollywood superheroes like Krrish and RA One.
Legoland Dubai
What do you remember when you hear the name 'Lego'? If you are not able to recollect, it is better to ask your kid who can certainly help you with this. Legoland is a theme park based on the popular Lego building blocks. The place is built of huge colorful Legos, and kids will love it at first glance.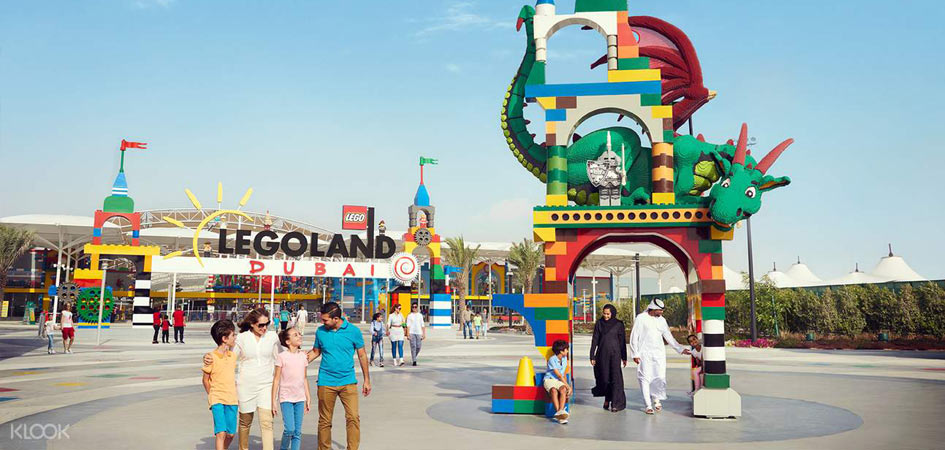 Legoland Waterpark
The Lego-themed water theme park has 20 slides and attractions for families and especially for the little ones aged 2-12. Kids will have unlimited fun here on the rides, lazy river, and splash safari.
How to reach Dubai Parks and Resorts
Dubai Parks and Resorts is located in Dubai on Sheikh Zayed Road, Opposite Palm Jebel Ali. From Dubai on the E11 Highway (Sheikh Zayed Road), past Dubai Marina and Jebel Ali heading towards Abu Dhabi
Take Dubai Parks and Resorts Exit 5
Going by metro
Take the Dubai Metro Red Line towards Jebel Ali (UAE Exchange Station) and alight at JLT Metro Station. From there, take the RTA Shuttle Bus to Ibn Battuta Metro station. From there, catch the RTA Bus – DPR1 to Dubai Parks and Resorts.
Dubai Parks and Resorts Timings
Saturday – Wednesday: 2.00 PM to 10.00 PM and Thursday & Friday: 2.00 PM to 11.00 PM
Monday – Sunday: 2.00 PM to 11.00 PM
All attractions will close 30 minutes prior to park closing.
Saturday to Wednesday from 10.00 AM to 7.00 PM and Thursday & Friday from 10.00 AM to 8.00 PM.
Monday – Sunday: 10.00 AM to 6.00 PM.
Where to stay
No need to ponder over the place of stay if you are planning to visit Dubai Parks and Resorts. A luxurious hotel lies at the heart of the theme park to ensure that you can have unlimited fun without thinking about time. Lapita Hotel is themed around the Polynesian islands and offers a pleasant stay for the visitors to the theme park.
Rove at the Park is yet another hotel that offers the easiest access to the theme parks. The hotel is near to The Outlet Village, Dubai Marina, and Palm Jumeirah. It has finest and spacious rooms along with a floor exclusively dedicated to sports and arcade games.
A trip to Dubai Parks and Resorts is certainly the best gift that you can give to your family. Everyone will find something which resonates with their tastes as the destination has a blend of three theme parks and one water park.