The hectic life at the office, stressful moments at colleges and monotonous days at home would have made you dull and grumpy. This is the time when you need a break. So, say goodbye to your serious face. It is time to have fun. Nothing has the power to free you like water. It just washes away all stress, anger and seriousness.
Who would have thought that a desert city like Dubai would have abundant marine resources that offer fun and thrilling water activities for tourists and residents alike? The cool and calm waters of the sea and the bright shining sun all year round are perfect for indulging in thrilling water sports. Just dive into the water and become a child. The experience is going to be refreshing and energizing.
Those who love solo sports can go alone to tackle the waves and the people who are looking for unlimited fun with a gang can try group rides. One main benefit of water sports in Dubai is that it is perfect for all seasons. Spending time in the water is delightful in summer as well as winter. Here, you can enjoy these fun water adventures.
Sport fishing: With a rich and diverse marine life of over 500 species of fish, Dubai Sea is an ideal spot for recreational fishing. Hire a yacht in Dubai and go deep sea fishing for an exciting adventure. You get all the fishing equipment you want. Cook fish on the yacht and have it hot.

Swimming: Calm and cool waters all year round make Dubai a great place for taking a dip. The yachts can anchor at shallow areas where you can jump off and splash into the refreshing waters. Swimming is a great exercise for both body and mind.

Snorkeling: Observe colorful fishes, crabs, and other marine creatures when you snorkel over the surface of the cool Dubai seas. Snorkeling equipment is available on board.

Diving: Swimming underwater with the fishes can be done all year round in Dubai. With diverse marine life, rich coral reefs, and numerous shipwrecks, Dubai is one of the best diving destinations in the world.

Banana boat ride: Banana boat ride is for those who want to have fun in the water with their loved ones. If the solo ride is not your cup of tea, just try this simple and exciting ride. The boat can accommodate up to 6 persons. Have a great time with your friends or family. Children can also enjoy a banana boat ride. So, it means double the fun.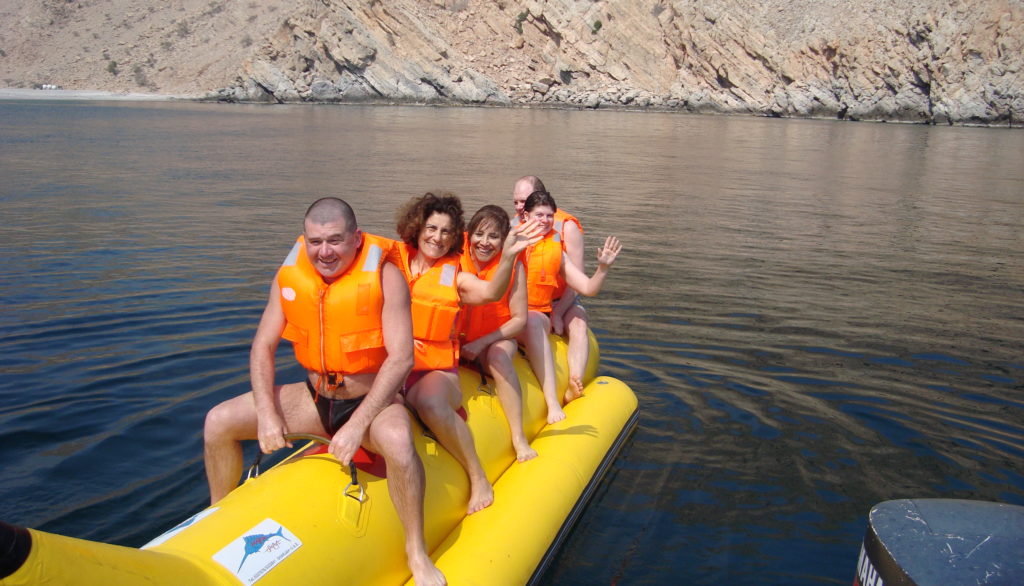 Jet skiing: Like riding a motorbike down a freeway, feel the wind rushing through you as you speed across the waters on a jet ski. Get ready for the rapid ride through the surface of the water. Jet skiing is done in a sitting position. The experts can stand on the Jet Ski and have splashing fun. However, it is not recommended for novice riders. This sport is the best pick for thrill seekers. You can also see these daredevils whizzing past your cruise anytime.

Yacht cruise: If you prefer just to sit back and enjoy the sea without getting yourself wet, a soothing yacht charter can take you cruising in the daytime, around sunset, or at night. You can marvel at the Dubai skyline or gaze at the setting sun from your yacht. You can have luxurious facilities inside a yacht which ensure a great journey.
Choose the entertainment programs you want, order the food or cook yourselves. Yachts move through some outstanding spots in Dubai. Perceive the beauty of Marina canal or the traditional charm of Creek. While cruising through Marina gives you glances of the affluent structures like Jumeirah Beach Residences (JBR) and Marina Mall, cruising Creek enables you to appreciate the past of Dubai.
These are just a few of the many water activities that you can do in Dubai. The boundless sea from the Persian Gulf offers an endless variety of fun for the water lover in all of us. Just make up your mind and explore the depths of water. It is the best possible way to revitalize yourself.