Kids are on cloud nine during their holidays. They will make plans and dream about having fun with their parents. Kids always cherish the memories that they have with you. Choose the best destination, which can give them endless fun. Fly with them to Dubai, the ultimate destination to celebrate holidays.
You have chosen the perfect place, now, what's next? Next lies the most important task; you will have to prepare a bucket list of things to do with kids in Dubai. So, I have made it easy for you. Have a look at the most exciting options in the city where your kids will not have even a moment of monotony.
Ski Dubai
Your kids won't miss the fun of playing with snow because they are in a desert. Dubai doesn't like challenges, and nothing is impossible for the city. In order to beat the heat, a winter wonderland was built where snowfall will be there throughout the year. So, head to Ski Dubai for snow time fun with your kids. They are going to fall in love with this place at first sight. Roll downhill on a giant Zorb Ball, try ice skating and play with the penguins.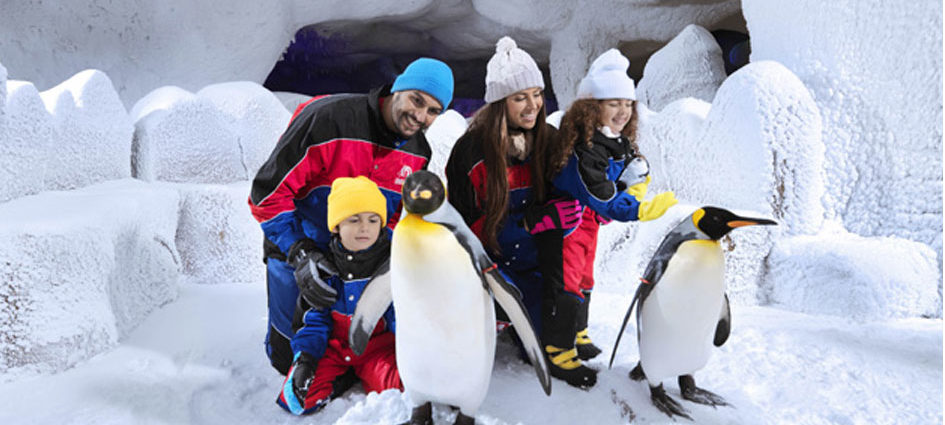 Aquaventure Waterpark
Aquaventure Waterpark opens doors to the marine world and its activities. It is one among the popular things to do in Dubai. It is located in Atlantis, The Palm hotel in Palm Jumeirah. The kids will have fun in the rides, and some of them will take you into a shark lagoon. The little ones can try the tamer rides and Splashers Children's Play Area. There is also a private beach to chill out when you want to relax after the adventurous part.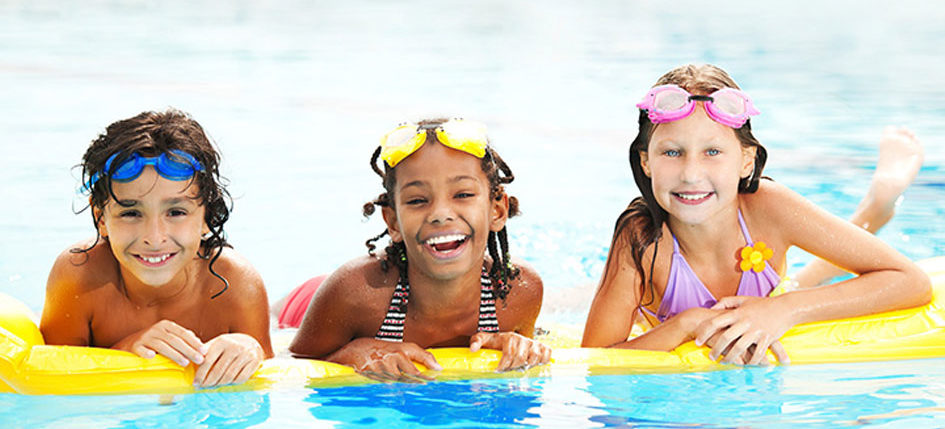 Atlantis, the Palm, is a luxurious resort at Palm Jumeirah that has changed into a global icon of Dubai. It has turned into the most-visited place of the uber-rich people visiting Dubai. It has some of the best entertainment and dining choices. The marine-themed resort has popular water activities and sights to surprise the guests.
Dolphin Bay
Children are curious about everything around us. The same curiosity makes them close to animals, and they are eager to know about different animals. While you may be scared when they play with animals, dolphins are the friendly creatures that will give great delight to your kids. Dolphin Bay at Atlantis, The Palm, gives varied experiences with these animals, which include interacting, swimming, and snorkeling with dolphins.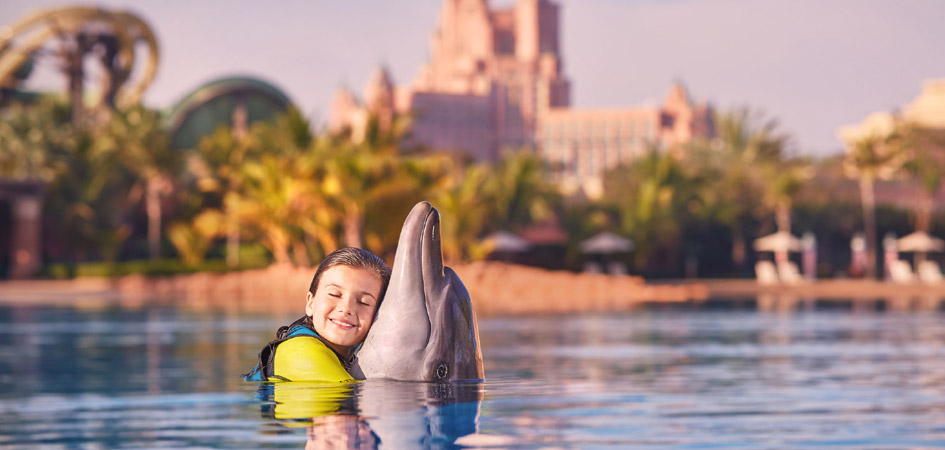 An exciting adventure is deep water interaction with these amazing creatures in which they will take you for a ride. Hold onto their fins, and they will take you through the water.
Dolphin Bay timing: 9 am to sunset (every day)
An adult must accompany guests below the age of 12
Wild Wadi Waterpark
This is one of the most-visited water theme parks in the Middle East. The location can't be more fantastic as the park is flanked by Burj Al Arab and the Jumeirah Beach Hotel. The pulsating rides will make the children whoop in delight. The park is themed on Juha, a popular character from Arabic folklore.
The little ones can have fun at Juha's Dhow and Lagoon, which is a playground with different slides, especially for the children. Kids can also swim in Juha's Journey, a long river with gentle current.
Kite Beach
Beaches in Dubai are places for relaxation, fun, and adventure. Kite beach is one of the most popular and happening beaches in the city. Skate Park, outdoor trampolines, and play areas make it an ideal destination for the kids. You can swim with your kids in the aquamarine water, take selfies in the backdrop of Burj Al Arab or try some adventures in the water.
And let's come to the most interesting part, kitesurfing. Yes, it is exactly what the beach was named after. Kids can try kitesurfing, but the minimum age is 10. The younger ones can just sit on the shore and admire the thrilling sport. Watching kite surfers float in the sky and water is itself a splendid sight.
KidZania Dubai
What if you can find a place where your kids play and become responsible citizens? Yes, that is what Kidzania in Dubai Mall offers. You will be happy when you have plenty of options for shopping, but the kids may get bored. So, leave them at KidZania where they can play some serious games. Here, kids enact the roles of real-life characters like doctors, engineers, and teachers.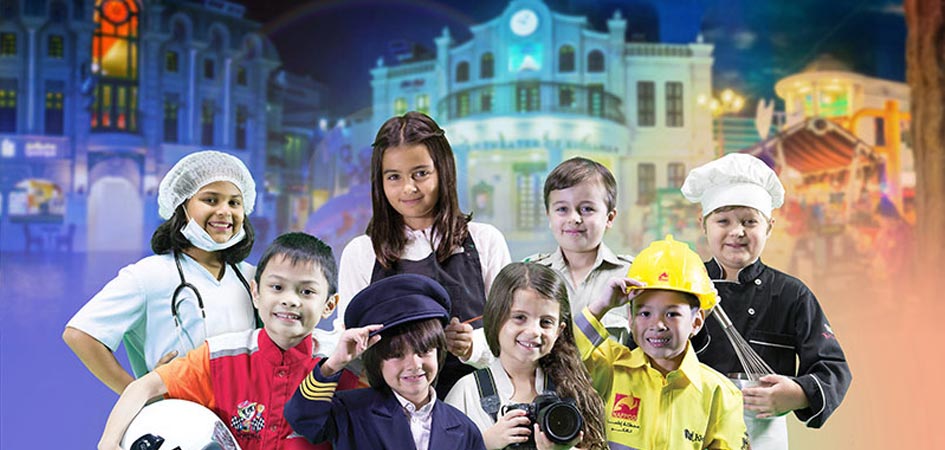 Kids are also 'paid' cash that they can use inside the play area. The best thing about KidZania is that playing and learning go hand in hand. The place is constructed as if a real city with apartments, offices, hospitals, and fire stations.
Yacht charter
Yachts in Dubai are undeniably a treat for the kids. There are no limits to the activities that they can try on a yacht. Hire a luxury yacht in Dubai for a fun day out in the sea. Even if you have seen most of the iconic landmarks in the city, yachts give a totally different picture. See Burj Al Arab, Palm Jumeirah, and Marina while gliding on the deep blue waves.
Try swimming and snorkeling with your kids. Inform the crew beforehand if you want to try watersports. Then, you will get the necessary equipment and clothes for the sport. Fishing is another exciting activity that you can try in the yachts. Teach your kids the basics of fishing and try your luck.
As Dubai's oceans are teeming with water, you are sure to get a good catch. Cook your catch in the kitchen and have it together. This is going to be the most memorable experience in their life. And, the decisions regarding cruising destinations, activities, and duration are all up to you.
Dubai Ice Rink
Dubai Ice Rink inside the Dubai mall is a playground to learn or harness your skills in ice skating. People of all ages can enjoy the fun, so take the kids along with you. It will be a perfect summer activity for them. Even when it is sweltering hot outside, they can play in the snow. Anybody can try skating in public session.
Freestyle sessions are meant for advanced skaters. You can also see snowfall in Dubai and feel the thrill of skating without limits. Children of any age can learn the art of skating from the skating academy at Ice Rink.
Dubai Aquarium and Underwater Zoo
A mysterious underwater world is waiting for the kids at Dubai Mall. The 10-million liter tank at Dubai Aquarium has marine creatures of around 140 species. It is a golden chance to observe the sharks, piranhas, and jellyfish at close quarters. The aquarium also protects the animals which are facing the threat of extinction. It has the largest collection of sand tiger sharks in the world. In the underwater world, they can see Otters, Humboldt Penguins, and Water Rats.
Don't forget to show King Croc to your kids. He has become a celebrity, and people flock to Dubai Aquarium mainly to see him. This saltwater crocodile is one of the largest animals in the world and weighs around 750 kg.
Miracle Garden
Take your children to the awe-inspiring world of flowers. You may possibly find it hard to believe that the world's largest natural garden is in a desert. It is the only place where you can see around 100 blooming flowers at a time. Everywhere, there are flowers, floral creations, and a burst of varied hues. Colors and fragrances will fill your hearts. And the most difficult thing is going to be choosing the photo stop!
When there are too many flowers and floral designs, you would feel like you have to take a picture at every spot. So, take extra batteries with you as the camera would run out of charge fast.
Castles, vehicles, cartoon characters, and famous towers are made wholly with flowers. The popular and obviously the tallest floral creation in the Miracle Garden is Burj Khalifa. Also, visit the Butterfly Garden, which stands right next to Miracle Garden. There, the kids can see and cuddle countless butterflies. The curious ones can also learn about the lifespan and different stages of the butterflies.
Dubai Garden Glow
Dubai Garden Glow is a theme park with a unique theme. It is a great chance for kids to learn about the importance of energy and wildlife conservation. As the name denotes, the garden glows in the night, making it a sight to behold. It opens only in winter, and every year, it comes up with a distinct and surprising theme. The kids can enjoy four different themes at a single venue.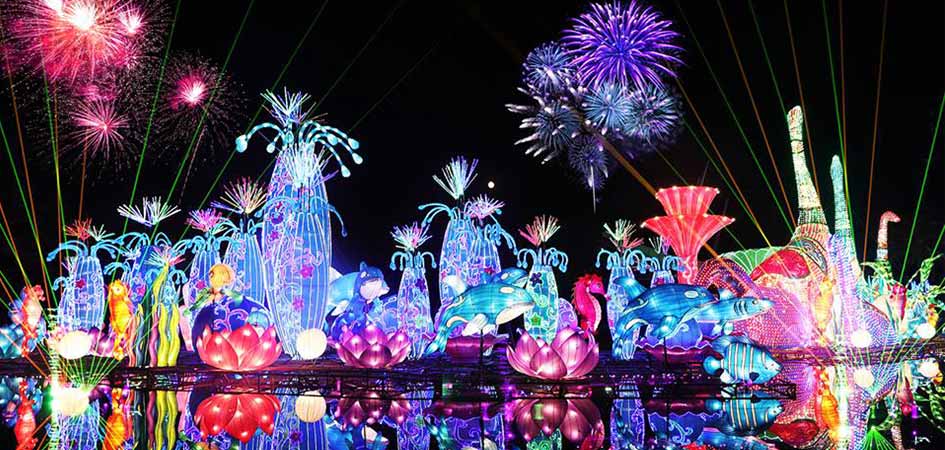 Following are the main highlights of Dubai Garden Glow, Season 5
Glow Park: It is a huge 'glow-in-dark garden' that is illuminated by energy-saving bulbs and recycled fabric.
Dinosaur Park: Kids can see the gigantic creatures which once ruled the world. There are more than 120 animatronic dinosaurs here.
Ice Park: Feel the chills inside the Ice Park with many magnificent ice scriptures.
Magic Park: This park conceals many surprises for the kids with optical illusions. Capture selfies with a series of three-dimensional artworks.
Children always love to go out with their parents. There are numerous things to do in Dubai with kids. Though you may have a hectic life, find some time for your kids as they value it the most. When you are at a wonderful city with a myriad of options, the joy of children knows no bounds.