In seed time learn, in harvest teach, in winter enjoy.
As William Blake puts down, winter is undoubtedly the time to enjoy, especially when you are at the ever-so-charming Dubai. Winter in Dubai is as dreamy as fairy tales. The city will gain its full life and vigor as the weather cools down.
Many outdoor markets will sprout up, several festivals give the round-the-clock party vibe, and there are no limits to the outdoor activities that you can try. If you are going to visit the city for the first time, make sure that you go in winter. This will ensure that you will have the loveliest and most delightful holiday in your life.
Weather in Dubai
So, when is winter in Dubai? This is a question asked by most of the visitors. Well, the most beautiful weather in Dubai starts from November and lasts till the first of April. However, the temperature will start to cool down in October. Usually, January is the coldest month in the city. Though it is cool and you would need a jacket while stepping out, don't expect snowy places like European countries.
Snowfall occurs sometimes, and you can bear witness if you are lucky enough. And if you want to shiver with cold, go to the heights like Jebel Jais and Jebel Hafeet. Dubai weather will give you an urge to step out and roam around the city. At daytime, the average high temperature in Dubai may be 22oC, and it may drop to 12oC at night.
Things to do in winter
What are the things to do in Dubai in winter? Well, that is a difficult question as there are countless things to do. Have a look at the most popular things:
Visit Burj Khalifa
Burj Khalifa is among the few places in Dubai, that remain crowded regardless of the weather. The tallest skyscraper in the world stands at a fascinating location called Downtown Dubai. The dazzling skyline and festive vibe make it a one-of-a-kind place in Dubai. If you visit Burj Khalifa in winter, you will find a bit difficult to spot its tip.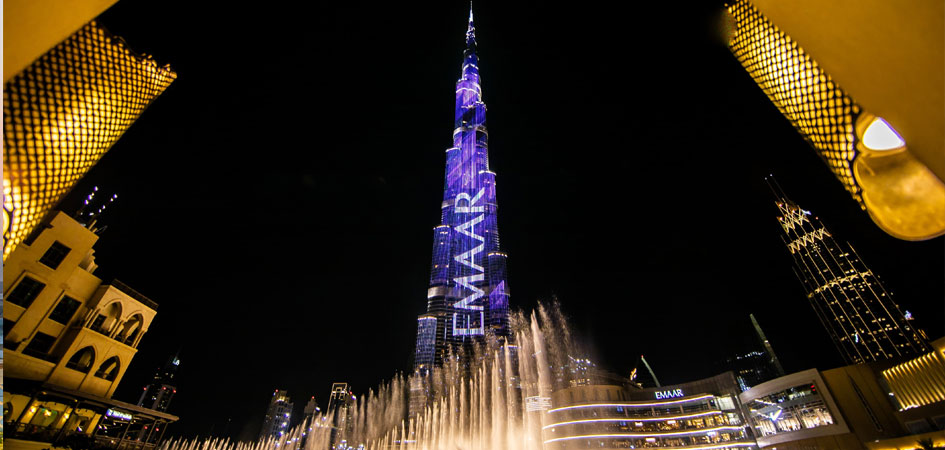 Wait for a while to capture its picture as the snow would sometimes cover the upper part. The fountain show seems even more appealing when it's winter. Probably you would stay back and wait for the next show after watching one.
Admire skyline from Dubai Frame
As the name denotes, Dubai Frame is a larger-than-life frame set against the backdrop of the stunning Dubai skyline. It is built of two 150-meter towers connected at the top by a 93-meter bridge called the Sky deck. The attractive design of Frame will lure you even from a great distance.
The exterior is clad with stainless steel sheets coated with titanium nitride, thereby giving it a glossy golden color. The golden tint reminds of Dubai's esteemed title of 'city of gold'. The base of the Frame has a beautiful garden and fountain, thereby providing plenty of photo stops.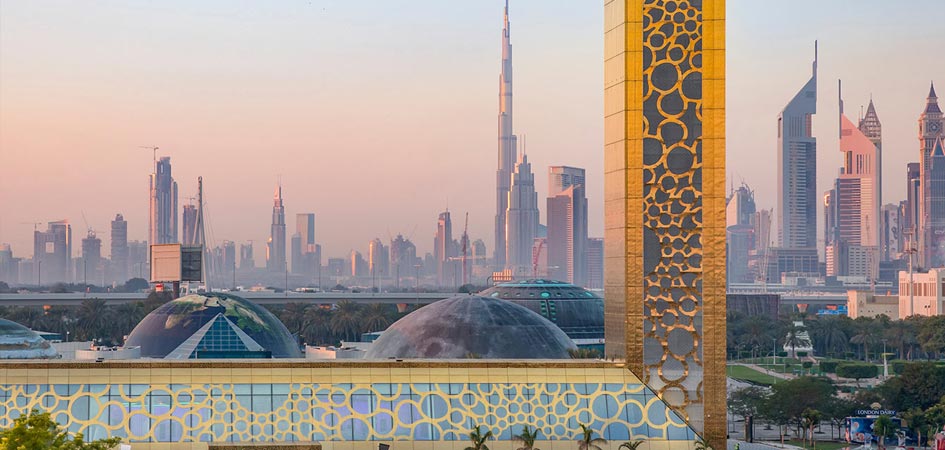 Dubai Frame gives you glimpses of the past, present, and future of Dubai. At the mezzanine floor, you will find a multimedia exhibition that tells you the city's admirable transformation from a fishing village to a mega-metropolis. Then they will go to the sky deck where they can have 360-degree views of the old and new Dubai.
The visitors will exit the elevator onto the mezzanine floor and pass through a tunnel with special audiovisual effects. It gives insight into the future of the city.
Visit Dubai Marina
Dubai Marina is one of the most luxurious neighborhoods in Dubai, which is hailed for an array of prestigious skyscrapers. It consists of the Jumeirah Beach Residences, Marina Mall, Bluewaters Island, and the Marina Walk. A walk through Marina will let you gaze upon the high rises, including Cayan Tower, Princess Tower, and Marina 101.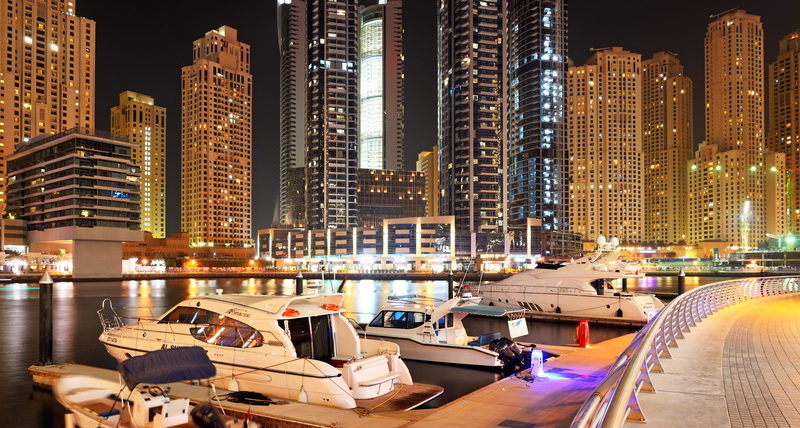 A fleet of yachts is docked at Marina, which adds to its luxury. There are several alfresco dining spots at Marina Walk, where you can tuck into the luscious pizzas or the crunchy burgers. Hire a Dhow to cruise along Marina while relishing a dinner buffet.
Go for a desert safari
Deserts in Dubai are even more beautiful during winter. It is the best time to camp in the sands with your loved ones. Grill a barbecue and have it while chatting with your favorite people. Desert safari is yet another excellent option if you want to watch live entertainment shows, try adventures, and have a sumptuous dinner in the desert.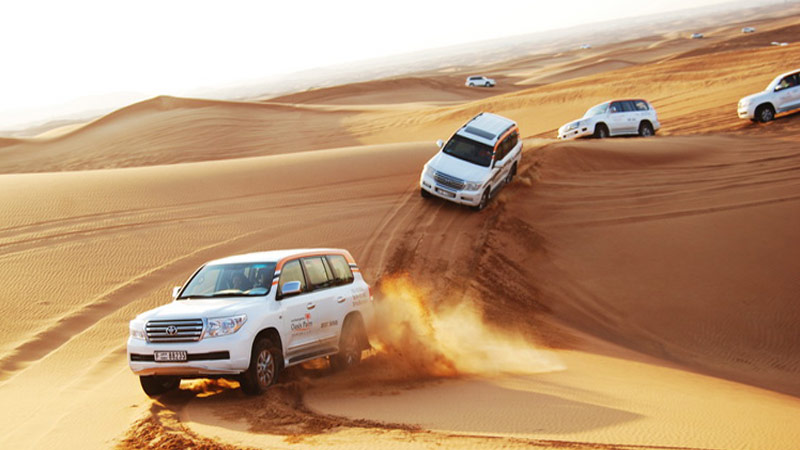 The adventures that you can try on the desert include sandboarding, camel riding, and quad biking. Watch Tanoura and Belly dances that are popular in the Middle East.
Have fun in the water
Cruising on a luxury yacht is a famous tourist activity in Dubai. Most of the attractions in the city are developed on the shores of the natural and artificial waterways. Yachts can offer a swift ride through the Arabian Gulf, the natural lakes, and also some glittering artificial canals. Cruise across Dubai Marina and revel in the enviable nightlife in Dubai.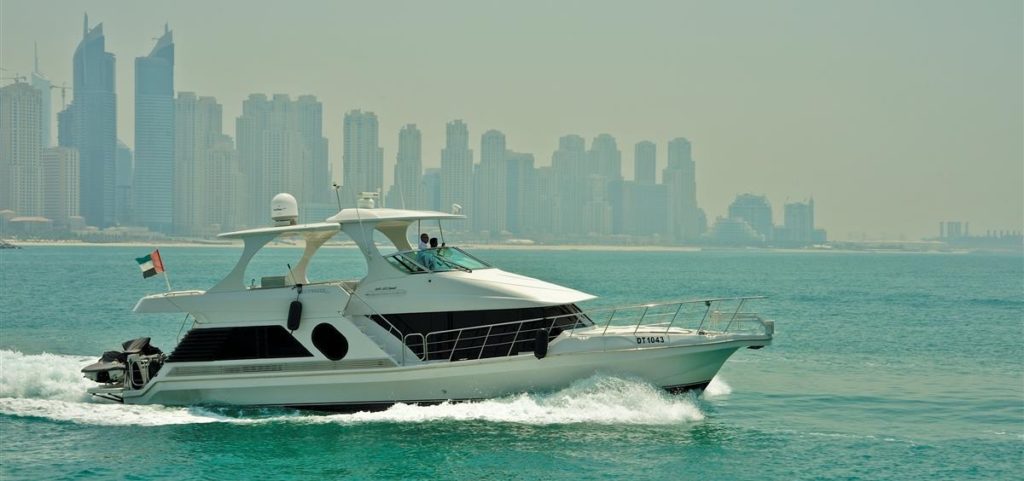 Palm Jumeirah is an artificial island that also looks splendid from the water. Take a selfie in the backdrop of Atlantis the Palm. Another advantage of a yacht trip in Dubai is that you can peek at beautiful migratory birds in a myriad of colors.
Laze around Jumeirah beach
Beaches in Dubai are sure to give immense delight to the beach bums. The gleam white sand, sun loungers, beanbags, and cabanas ensure plenty of me-time. The thrill-seekers can try all the water activities like wakeboarding, windsurfing, kayaking, and waterskiing. There is no entry fee, and you can frolic in the sand with your kids until you drop. This beach can be too crowded on the weekends as it is the favorite spot for tourists.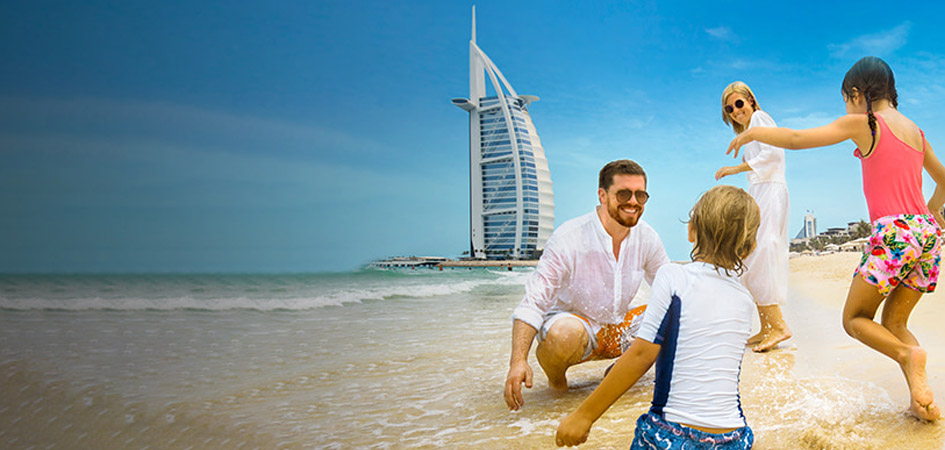 Explore the past at Dubai Creek
After you have seen the astounding cityscape in Dubai, you should head to Creek to see the city's quaint side. Creek has the early skyscrapers, souks, and heritage sites that will take you to the past. The saltwater creek has Deira on one side and Bur Dubai on the other. Abras can offer a ride at just AED 2.
These are the wooden boats that serve as water taxis in the creek. You can walk around the creek or go shopping at the souks. Al Seef is a new development at Creek, which attracts tourists as well as locals. All these spots are best for an evening walk. However, the cold wind may give you chills at times.
Most-loved winter attractions
Some of the most-loved attractions in Dubai come to life only in winter. Due to the desert climate, most of the outdoor attractions like gardens will dry up. And, people seldom prefer outdoor activities when it is scorching heat. So, the best surprises in the city are caressed to be opened only in winter.
Dubai Garden Glow
Among all the attractions, Dubai Garden Glow is certainly the top choice of children. The fifth season of the Glow Garden is open with four different themes. Glow Park, Dinosaur Park, Ice Park, and Magic Park are the themes that allure kids for all good reasons. This season's theme is 'Back to Nature', and it is evident in all its exhibits.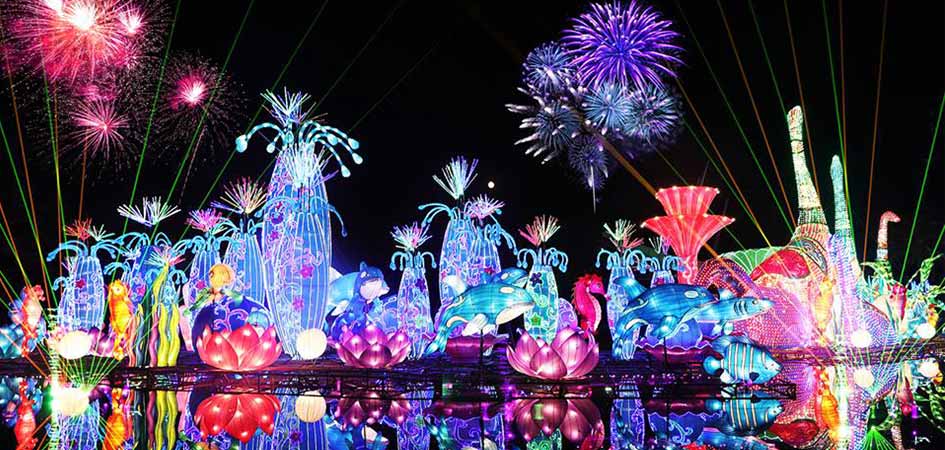 Energy-saving bulbs illuminate the garden with the exhibits made from recycled material. Dubai Glow Garden is spreading light and knowledge with its inspiring themes. While the dinosaur park has more than 100 animatronic dinosaurs, Ice Park is filled with ice sculptures. Magic Park is a new addition, which has 27 different sets of optical illusions.
The kids will be more than happy to see the garden that glows in the dark, and it also teaches them about the significance of conserving nature.
Glow garden Dubai timing: Saturday to Thursday 4 pm to 11 pm
Fridays Timings: 4 am to 12 am
Dubai Garden Glow tickets: AED 65 per head
Global Village
Globe trotters and shopaholics can rejoice at the one and only Global Village in Dubai. It showcases unique products from countries around the world. Being a blend of theme park and market, it is undoubtedly the most popular shopping festival in Dubai. Tourists flock to Dubai in winter, mainly to visit Global Village. It features different pavilions that are dedicated to specific countries.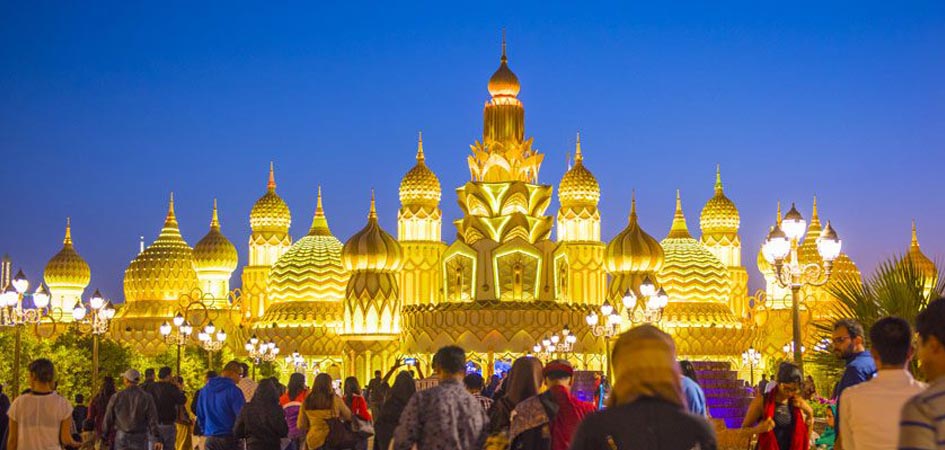 Well-known towers in different countries inspire the design of the pavilions. Thus, you will see the Taj Mahal, Pisa Tower, and the famous Tower Bridge of London at a single place.
The global village is a family-friendly destination that prioritizes culture, entertainment, and food. In this season, it has 26 pavilions, live shows, more than 100 rides, skill games, and mouth-watering cuisine. It started in October and will end on April 4, 2020. As it is developed on the shore of a lake, you can hire an abra and sail across the scenic towers.
Global village timings: From Saturday to Wednesday from 4 pm – 12 am
Thursday, Friday and Public Holidays from 4 pm – 1 am
Global village Dubai entrance fee- AED 15
Miracle Garden
Spring and winter come together in Dubai. Is it hard to believe? Then, visit Miracle Garden, and you can see it for yourself. A huge natural garden with more than 100 million blooms is opened in winter. This season is the only time when you can walk through the beds of flowers, take selfies with a floral version of Burj Khalifa and cuddle the countless butterflies.
Miracle Garden and Butterfly Garden are close to each other, but you need separate tickets to visit both. There are castles, cartoon characters, and towers wholly made of flowers. The waterfalls and the wide array of flowers will fill your hearts.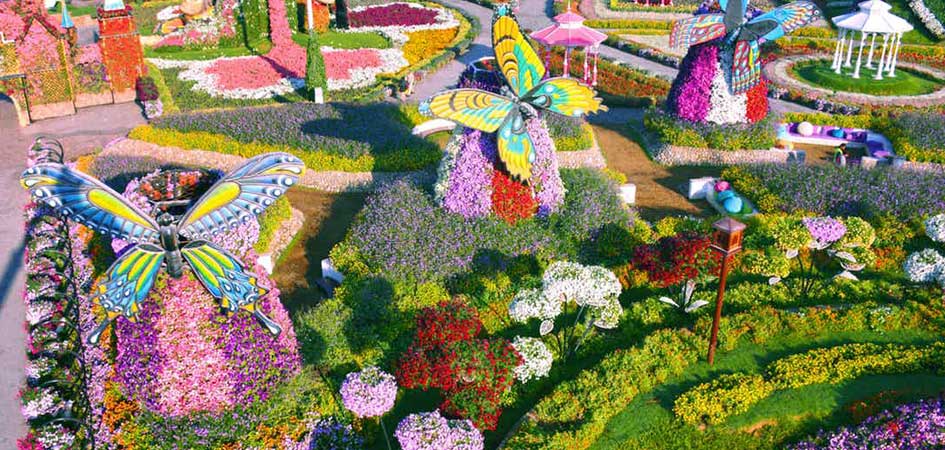 Butterfly Garden is also a marvelous experience as hundreds of butterflies will fly around you. Don't forget to take a selfie in front of the Hearts Passage. It is an iconic spot at Miracle Garden.
Dubai Miracle Garden timings: 9 am – 9 pm on weekdays (Sunday – Thursday)
9 am – 11 pm on weekends (Friday and Saturday)
Ticket price is AED 40 for adults, AED 30 for children
Everyone loves winter, and it is the most pleasant time in Dubai. Book your flight tickets to enjoy the winter in Dubai amid the plethora of astonishing places and attractions.